Todd Dodge was fired as the Head Coach at North Texas. While it is still early and more candidates may enter the picture after the season, the coaching tree has come up with four potential replacements:
Tyrone Nix, currently the defensive coordinator under Houston Nutt at Ole Miss, is a young coach moving up the ranks, and this may be a good fit for his first head coaching job. Nix has been a defensive coordinator at Southern Miss, South Carolina, and now Ole Miss. He is a graduate of Southern Miss, much like North Texas athletic director Rick Villareal. Villareal was a graduate assistant at USM during Nix's freshman season, and was also the assistant athletic director for the Golden Eagles from 1998-2000, when Nix was a position coach with the team.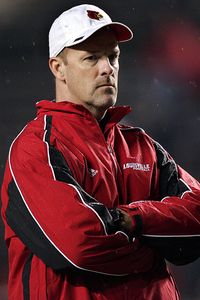 Steve Kragthorpe was most recently the head coach at Louisville, where he was fired after three seasons, failing to finish with a winning record. Kragthorpe did have success in four years as head coach at Tulsa, winning a Conference USA title in his third year. He spent two years (1994-95) as the offensive coordinator at North Texas. He has head coaching experience, which is one of the main things the program is looking for. Kragthorpe had signed on to coach wide receivers at Texas A&M for the 2010 season, but resigned in July due to family medical issues. While he seems like he would be a good fit for the Mean Green, it is unknown whether or not those issues have been resolved.
Phil Bennett, defensive coordinator at Pitt, has proven himself as a quality defensive coordinator. He also spent six seasons as head coach at SMU, where he worked to rebuild the Mustangs with some degree of success. Bennett spent four years at LSU, where he coached with North Texas AD Rick Villareal. With head coaching experience and a solid defensive background, Phil Bennett may be worth a hard look for this position.
Jim Leavitt doesn't have any connection to North Texas or the administration, but there is one reason why he makes this list: Mike Canales. Canales is the interim head coach for the remainder of the 2010 season. He came to North Texas as the offensive coordinator after eight years (two separate stints) coaching under Jim Leavitt at South Florida. If Canales is able to bring the Mean Green together and play competitively over the remainder of the season, Canales may gain the respect to the point where he could lobby for the school to bring in Leavitt.