Dan Hawkins was fired as head coach at Colorado, with assistant Brian Cabral taking over as the interim head coach for the rest of the season. The Buffaloes are 4-6 with two games remaining in their final season in the Big XII. The coaching tree has come up with three potential replacements: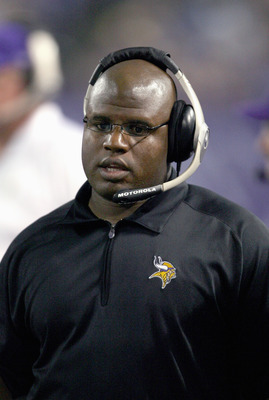 Eric Bieniemy is currently the running backs coach for the Minnesota Vikings. He was rumored to be leaving for USC just before the season to become the Trojans' offensive coordinator. Instead, he was given a raise and added the title of assistant head coach with the Vikings. Bieniemy is a Colorado alum who also was the RB coach in Boulder from 2001-02. He also played nine seasons in the NFL, three of which he played with current Buffs DB coach Ashley Ambrose. He certainly has the Colorado pedigree, but has never been a head coach or even a coordinator at any level.
Shawn Watson is the offensive coordinator at Nebraska, where he is in his fifth season. Prior to joining the Cornhuskers, Watson spent seven years at Colorado, the last six as offensive coordinator. He does have head coaching experience, leading his alma mater Southern Illinois from 1994-96, compiling a record of 11-22. Obviously that record doesn't help his case, but the offensive output he is putting together this season at Nebraska, he is giving reason why he may be a candidate worth talking to.
Brian Cabral is currently the interim head coach at Colorado after taking over when Dan Hawkins was fired. He also coaches the Buffs linebackers, which he has done for the last 21 years. He played LB at Colorado from 1974-77 and returned as a graduate assistant after a nine year NFL career and two years as an assistant coach at Purdue. Cabral lead the Buffaloes to a victory over Iowa State in his first game as head coach, and will look to finish strong with games against Kansas State and Nebraska to end the season. If the team has a solid end to the season, look for Cabral to get a serious look at having the interim tag removed.