Eric Schumann was let go as defensive coordinator at UAB after four seasons. Was ranked in the bottom half in all major defensive categories, including one of the worst pass defenses in the country. The coaching tree has come up with three potential replacements:
Mike Dubose is in his first season as defensive line coach at Memphis after four years as head coach at Millsaps College. Dubose was the head coach at Alabama from 1997-2000, where he had a record of 24-23. Prior to becoming head coach, Dubose coached the Crimson Tide defensive line from 1990-96.
COACHING TREE CONNECTIONS:
UAB head coach Neil Callaway was Dubose's offensive line coach at Alabama in 1997 and offensive coordinator fro 1998-2000.
WR coach Tim Bowens played at Alabama from 1996-99.
OL coach Will Friend played at Alabama from 1993-96.
Dubose was a graduate assistant at Alabama in 1975, where Callaway was in his sophomore year as an offensive lineman.



---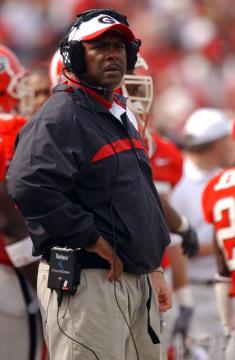 Rodney Garner is the defensive line coach at Georgia, where he has been since 1998. Garner has also coached at Tennessee and Auburn, his alma mater.
COACHING TREE CONNECTIONS:
Neil Callaway was Georgia's offensive coordinator from 2001-06
Garner coached tight ends at Auburn from 1990-95 and played defensive line for the Tigers from 1984-88. Callaway coached Auburn's offensive line from 1981-92.



---
Wayne Bolt is in his second year as director of football operations at Auburn, after two seasons as Gene Chizik's defensive coordinator at Iowa State. Bolt has also been a DC at Troy and in a previous stint at UAB.
COACHING TREE CONNECTIONS:
Defensive cooordinator at UAB from 2003-05.
TE coach at Auburn from 1981-85. Neil Callaway's first five years as OL coach with the Tigers.
Coached offensive line with Callaway at Wyoming in 1980
Graduate assistant at East Carolina in 1978 and '79 when Callaway coached the Pirates' offensive line.



---
Other names in consideration: Willie Martinez, Oklahoma; Charlie Harbison, Clemson; Jason Jones, Oklahoma State.