Jeremy Bates has been fired as offensive coordinator of the Seattle Seahawks. The coaching tree has come up with the following potential replacements:
---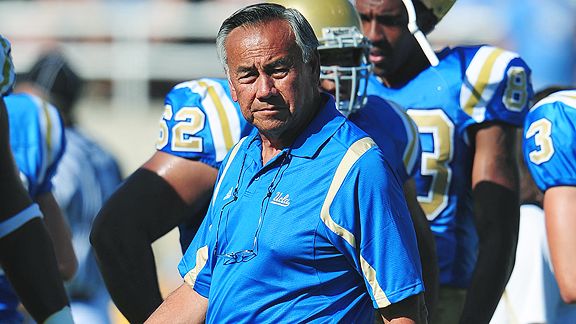 Norm Chow
- UCLA Offensive Coordinator
Tennessee Titans offensive coordinator in 2006 and '07. Sherman Smith was the Titans' RB coach from 1995-2007.
USC offensive coordinator from 2001-05 under head coach Pete Carroll.
---
Jim Zorn
- Baltimore Ravens Quarterbacks Coach
Washington Redskins head coach in 2008 and '09. Sherman Smith was his offensive coordinator both seasons.
Seahawks QB coach from 1997-98 and 2001-07.
Detroit Lions QB coach in 1999 and 2000. Worked with Pat Ruel, who was the Lions' offensive line coach in 2000.
Played for the Seahawks from 1976-84. Seven of those seasons were spent with Sherman Smith, who was a running back for the Seahawks from 1976-82.
---
Matt Cavanaugh
- New York Jets Quarterbacks Coach
San Francisco 49ers QB coach in 1996, when Pete Carroll was the team's defensive coordinator.
Baltimore Ravens offensive coordinator from 1999-2004, helping the team win the Super Bowl in head coach Brian Billick's 2nd season with a balding quarterback named Trent Dilfer and a slot receiver named Brandon Stokley. Seems like a good fit, if only any of that stuff actually translated to winning.
---