Randy Shannon was fired after the Hurricanes' final regular season game. While "The U" hasn't produced as many wins as expected over the last few years, this is still one of those jobs that will always be attractive to big name coaches. The coaching tree has come up with four potential replacements: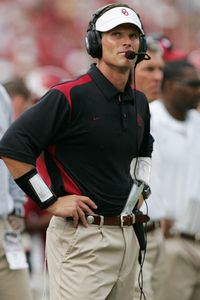 Brent Venables is the defensive coordinator at Oklahoma, where he is in his twelfth season. While he has no experience as a head coach, he has been known for his success as a coordinator for years and is due for a shot soon. The question is if Miami is a good place for someone to be getting their first shot as the head man.
COACHING TREE CONNECTIONS:
Miami athletic director Kirby Hocutt was the associate AD at Oklahoma during Venables' first six years at OU.
Was a graduate assistant at Kansas State from 1993-94, when Hocutt was in his last two years as a linebacker for the Wildcats.
Venables and Hocutt were teammates at Kansas State in 1991, both playing linebacker. Venables was a senior, while Hocutt was a freshman.



---
Mark Richt is the head coach at Georgia. He is in his tenth season in Athens, where he has a career record of 96-33. He was seemingly on the hot seat for most of the season after a 1-4 start, but the team rallied to finish 6-6, and his job looks to be safe - for now. This may be a perfect time for Richt to leave on his own terms and start fresh at his alma mater.
COACHING TREE CONNECTIONS:
Played quarterback at Miami from 1978-82



---
Mike Stoops is the head coach at Arizona, where he is in his seventh season. His career record with the Wildcats is 40-43 going into the last regular season game against Arizona State. While he has certainly improved the program at Arizona, he has still only managed one bowl win and has never won more than eight game in a season.
COACHING TREE CONNECTIONS:
Coached at Oklahoma from 1999-2003, while Miami AD Kirby Hocutt was the associate AD at OU.
Coached at Kansas State from 1992-98. Was the defensive ends coach for Hocutt's last three seasons as a LB with the team.



---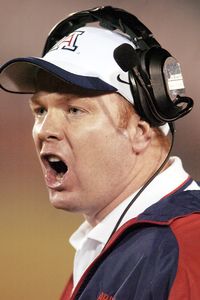 Mark Stoops is in his first season as defensive coordinator at Florida State after six years as his brother's DC at Arizona. While he doesn't have any head coaching experience, neither did his brother Bob, who went to Oklahoma in 1999 and won a national championship in his second season.
COACHING TREE CONNECTIONS:
Coached defensive backs at Miami from 2001-03
Miami AD Kirby Hocutt played for and worked with both of Stoops' brothers Mike and Bob at Kansas State and Oklahoma.



---
Other names in consideration: Mike Leach, Kevin Sumlin, Greg Schiano