Charlie Weis will leave after the playoffs to become the offensive coordinator at the University of Florida under new head coach Will Muschamp. The coaching tree has come up with the following potential replacements:
New England Patriots assistant coach from 2001-08. Romeo Crennel was the defensive coordinator for the Patriots from 2001-04. DL coach Anthony Pleasant and defensive quality control assistant Otis Smith played for the Pats when McDaniels was there.
---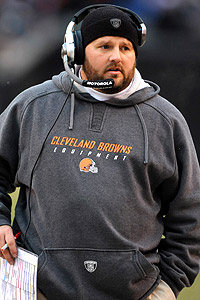 Brian Daboll
- Cleveland Browns Offensive Coordinator
Assistant coach with the Patriots from 2000-06, where he worked with Crennel, the DC, and Pleasant and Smith, who played for the Pats.
---
David Lee
- Miami Dolphins Quarterbacks Coach
QB coach for the Dolphins since 2008. Special teams coach Steve Hoffman was the Dolphins' assistant special teams coach in 2007 and '08.
Assistant coach for the Dallas Cowboys from 2003-06, serving as the QB coach in 2005 and '06. Todd Haley was the Cowboys' WR coach from 2004-06. Maurice Carthon was the Dallas offensive coordinator in 2003 and '04, Richie Anderson played for the Cowboys from 2003-05, LB coach Gary Gibbs was the 'Boys linebackers coach from 2002-05, and Steve Hoffman was an assistant from 1989-2004.
QB coach at Ole Miss from 1978-82. Romeo Crennel coached the Ole Miss defensive line in 1978 and '79.
---
Rip Scherer
- ex-Carolina Panthers Quarterbacks Coach
Cleveland Browns QB coach from 2005-08 under head coach Romeo Crennel. Maurice Carthon was the offensive coordinator in 2005 and '06.
QB coach at Georgia Tech from 1980-84. Crennel was the Yellow Jackets' defensive line coach in 1980.
---
Other names in consideration:
Dan Henning
, Dolphins;
Paul Hackett
, Raiders;
John McNulty
, Cardinals.