Ron Rivera has left the Chargers to become the new head coach of the Carolina Panthers. The coaching tree has come up with the following potential replacements:
---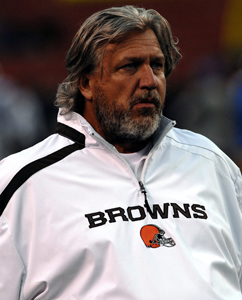 Rob Ryan
- ex-Cleveland Browns Defensive Coordinator
Oakland Raiders defensive coordinator from 2004-08. Norv Turner was the head coach of the Raiders in 2004 and '05, and Don Johnson coached the Raiders defensive line in 2007 and '08.
---
Dave Wannstedt
- ex-Pitt Head Coach
Miami Dolphins head coach from 2000-04. Norv Turner was his offensive coordinator in 2002 and '03.
Dallas Cowboys defensive coordinator from 1989-92. Turner was the Cowboys' offensive coordinator in 1991 and '92.
Defensive coordinator at Miami from 1986-88. Rob Chudzinski and Mike Sullivan both played at Miami from 1986-90.
Defensive line coach at USC from 1983-85. Turner coached at USC from 1976-84.
---
Chuck Pagano
- Baltimore Ravens Defensive Backs Coach
Oakland Raiders defensive backs coach in 2005 and '06. Norv Turner was the Raiders' head coach in 2004 and '05.
Cleveland Browns defensive backs coach from 2001-04. Mike Sullivan was the Browns' assistant offensive line coach from 2001-04 and Rob Chudzinski joined the staff as TE coach in 2004.
Defensive backs and special teams coach at Miami from 1995-2000, where he was on staff with Chudzinski for all six years and with Sullivan for one season.
Defensive coordinator at UNLV in 1990 and '91, where he worked with his brother, John, who is the linebackers coach for the Chargers.
Graduate assistant at Miami in 1986, which was Chudzinski and Sullivan's freshman seasons with the Hurricanes.
GA at USC in 1984 and '85. Norv Turner was the Trojans' offensive coordinator in 1984.
---
Mike Nolan
- Miami Dolphins Defensive Coordinator
San Francisco 49ers head coach from 2005-08. Norv Turner was his offensive coordinator in 2006 before taking the Chargers job.
Washington Redskins defensive coordinator from 1997-99 under Turner, who was the Redskins' head coach from 1994-2000.
---