Jon Embree has left the Washington Redskins to become the new head coach at Colorado. The coaching tree has come up with the following potential replacements:
---
Pete Hoener
- San Francisco 49ers Tight Ends Coach
49ers TE coach from 2005-10. Offensive line coach Chris Foerster was the Niners' OL coach in 2008 and '09.
Coached at Purdue from 1989-91. Running backs coach Bobby Turner was the offensive coordinator at Purdue from 1991-94 and assistant defensive backs coach Steve Jackson played at Purdue from 1987-90.
Offensive coordinator at Indiana State from 1978-82. Bobby Turner was the RB coach at Indiana State from 1975-82.
---
Bob Palcic
- UCLA Offensive Line Coach
New Orleans Saints TE coach from 2000-05, when defensive coordinator Jim Haslett was the Saints head coach.
Cleveland Browns OL coach in 1999, where he worked with Bob Slowik, who was the Browns defensive coordinator.
Offensive line coach at Ohio State from 1986-91. Bobby Turner was the Buckeyes RB coach in 1989 and '90.
---
Tim Brewster
- ex-Minnesota Head Coach
Head coach at Minnesota from 2007-10. Assistant special teams coach Richard Hightower was the wide receivers coach at Minnesota in 2009.
TE coach for the Denver Broncos in 2005-06, working under head coach Mike Shanahan.
Coached the San Diego Chargers tight ends from 2002-04. WR coach Keenan McCardell played for the Chargers from 2004-06.
TE coach at Texas from 1998-2001. Offensive coordinator Kyle Shanahan and Richard Hightower both played for the Longhorns while Brewster was there.
---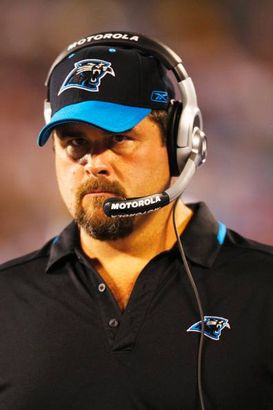 Jeff Davidson
- ex-Carolina Panthers Offensive Coordinator
Offensive assistant with the New Orleans Saints in 1995 and '96. Jim Haslett was the Saints LB coach in '95 before becoming the defensive coordinator in 1996.
Played for the Broncos from 1990-92. Mike Shanahan was the QB coach in Denver in 1990 and '91.
Played at Ohio State from 1986-89. Bobby Turner coached at OSU in 1989 and '90.
---
Tim Salem
- Central Florida Tight Ends/Special Teams Coach
Coached at Purdue from 1991-96, where he coached with Bobby Turner from 1991-94.
Played his freshman year at Minnesota in 1980 before transferring to Arizona State. His father Joe was the head coach at Minnesota from 1979-84, and hired Mike Shanahan as his offensive coordinator in 1979.
---
Ralph Friedgen
- ex-Maryland Head Coach
Offensive coordinator at Georgia Tech from 1987-91. Special teams coach Danny Smith was an assistant at GT from 1987-94.
Offensive coordinator at William & Mary in 1980, where Smith was an assistant from 1980-83.
---
Other names in consideration:
Art Valero
, Seahawks;
Geep Chryst
, ex-Panthers.
---