Brian VanGorder has left the Falcons staff to take a position as defensive coordinator at Auburn. Here is a list of potential candidates to fill the Falcons DC opening:
---
Served as the Jaguars head coach from 2003-11. Mike Smith was his defensive coordinator from 2003-07 before becoming the Falcons head coach. Ray Hamilton, Alvin Reynolds, and Paul Boudreau also spent time on Del Rio's staff in Jacksonville.
Defensive coordinator for the Carolina Panthers in 2002. Alvin Reynolds was a defensive assistant with the team and Paul Boudreau was the Panthers' OL coach.
LB coach for the Baltimore Ravens from 1999-2001. Mike Smith was the Ravens' DL coach at the time and took over as LB coach when Del Rio left for the Panthers.
---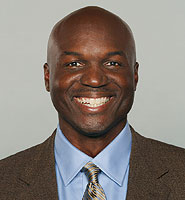 Coached defensive backs for the Cleveland Browns from 2001-04, where he worked on staff with both Ray Hamilton and Terry Robiskie.
DB coach for the New York Jets in 2000. Ray Hamilton was the Jets' DL coach.
Played defensive back at Temple from 1982-85. ST coach Keith Armstrong was a defensive back at Temple from 1983-86.
---
Sal Sunseri
- Alabama Assistant Head Coach/Linebackers Coach
DL coach for the Carolina Panthers from 2002-08. He worked on staff with Alvin Reynolds and Paul Boudreau in 2002 and with Tim Lewis in 2007 and '08 when Lewis coached the Panthers DBs.
Played linebacker at Pitt from 1978-81. His teammates included Tim Lewis (1979-82) and Falcons assistant OL coach Paul Dunn (1978-82).
---
Assistant defensive backs coach for the Pittsburgh Steelers in 2003, where he worked with Tim Lewis and Mike Mularkey, who were the Steelers defensive and offensive coordinators, respectively.
Coached safeties for the Cincinnati Bengals in 2002, where Bob Bratkowski was the offensive coordinator.
Played safety for the Steelers from 1992-98. Mularkey was on staff as TE coach Perry's last three seasons, and Tim Lewis was his position coach from 1995-98.
---
Was on the Baltimore Ravens staff starting in 2001 as WR coach and from 2002-04 as defensive coordinator. Mike Smith was the Ravens DL coach from 1999-2001 before moving to LB coach in '02.
Spent the 2000 season as the New York Jets defensive coordinator, where he worked with Ray Hamilton, who coached the defensive line.
Defensive coordinator for the Washington Redskins from 1997-99. Terry Robiskie was the Redskins' WR coach from 1994-2000.
---