Josh McDaniels has been fired as the Denver Broncos head coach in his second season. He had a record of 11-17, but only won five of the teams last twenty-two games. The coaching tree has come up with four potential replacements:
Jim Fassel is currently the head coach of the Las Vegas Locomotives of the UFL, where he has won back-to-back UFL championships. Fassel was the head coach of the New York Giants from 1997-2003 where he had a record of 58-53-1.
COACHING TREE CONNECTIONS:
Broncos offensive coordinator in 1993 and '94.
Offensive coordinator at Stanford from 1979-83. Bronco legend John Elway played at Stanford from 1979-82.



---
Gary Kubiak is in his fifth season as head coach of the Houston Texans. Prior to being named head coach in Houston, Kubiak had spent 20 of his 23 years as a player or coach with the Broncos.
COACHING TREE CONNECTIONS:
Broncos' offensive coordinator from 1995-2005.
Played quarterback (backup to John Elway) for the Broncos from 1983-91.



---



Jeff Jagodzinski is the head coach of the UFL's Omaha Nighthawks. He led the Nighthawks to a 3-5 record in their first year in the league. Jagodzinski was the head coach at Boston College in 2007 and '08, compiling a record of 20-8.
COACHING TREE CONNECTIONS:
Offensive line coach for the Atlanta Falcons in 2004 and 2005. Broncos' general manager Brian Xanders worked in football operations for the Falcons from 1994 until joining the Broncos in 2008.



---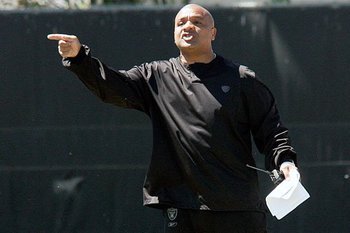 Hue Jackson is in his first season as the Oakland Raiders' offensive coordinator. While he has never been a head coach, he has been an OC with the Falcons, Redskins, and at USC and Cal.
COACHING TREE CONNECTIONS:
Offensive coordinator with the Falcons in 2007, where Broncos' GM Brian Xanders worked before coming to Denver.